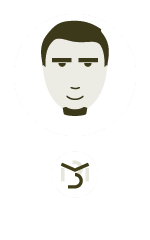 I love solving problems. Did so for ten years working as an Art Director for big agencies. Developed solutions to communication problems that won pitches, influenced minds and sold products. Since 2014 I started solving problems on my own, with a renewed drive to create design work that is consistent, emotionally involving, and efficient.
While I specialize in identity design, I have experience working with most communication forms and welcome any visual communication challenge. I have high professional expectations from the people I work with and especially from myself. 
Love my work and like to build long term relationships with my clients, work with them on all their communication needs, ranging from branding, brand communication, UI/UX for interactive projects, multi page publications, posters, reports, to video animation or any type of print or digital endeavor. 
I also enjoy creating experiences with a physical dimension, awarded

here

and

here

. Check out the web shop, where we make unique and limited edition decoration and small furniture pieces that help make your space your own. 
Learn more about my work history, education and skills

here.